Please note that we are currently unable to accept credit or debit card payments for orders placed over the phone.
Welcome to Wildflowersuk.com


Welcome to wildflowers UK , the website of Yellow Flag Wildflowers. We are based in Gloucestershire and have specialised exclusively in the supply of native British Wildflower mixes, meadow seeds, and bulbs since 1994 originally supplying our products by mail order catalogue. Over the last 25 years we have built a reputation for competitive pricing, high quality products, and excellent customer service. Our customers include, local authorities, schools, landscapers, wildlife trusts and gardeners based in the UK. All our seed is sourced in the United Kingdom and unless otherwise stated is of Native UK provenance. Our products are suitable for habitat restoration and throughout the year it is possible to purchase wildflowers for almost every situation, from small garden "mini-meadows" to large-scale habitat creation projects.
When it comes to wildflowers, we think 1 video is worth a thousand photos, and our site features hundreds of stunning wildflower videos, filmed ourselves and showing many of the seeds and plants that we sell flowering in their natural habitats.
Our site uses Pay 360 by Capita (previously PayPoint.net) fully secure complete online payment service offering our customers maximum levels of security. To navigate the various categories we recommend using the green menu bar at the top of the screen and then tap/click the mauve links or wildflower images. Alternatively you can use the product search box just below the top menu or the
site map page
. Discover more below on how to order through our site and where to find help and advice.
***PLEASE NOTE: WE ARE CURRENTLY ONLY ABLE TO SEND ORDERS TO ADDRESSES WITHIN GREAT BRITAIN***


---
FREE DOWNLOADS:
---
Products
Our products fall into the following 4 groups, Mixtures, Wildflower Seeds, Wildflower Bulbs and Plants for Pollinators. These are displayed on the green menu bar at the top of all screens and also below. Within these groups are a total of 10 different categories as summarized below.
To begin browsing click or tap one of the mauve links below and then use the green menu bar above, to browse other categories.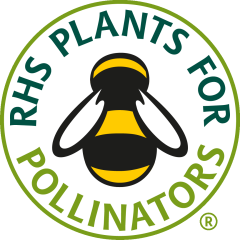 Many of the wildflower seeds and wildflower seed mixes that we sell are nectar rich and ideal for attracting bees and other pollinating insects. By growing these plants you can help reverse the current decline in Bee populations. The seeds and mixtures in this category all carry the RHS "Plants for Pollinators" logo. The RHS Plants for Pollinators mark is only given to plants that support pollinating insects in gardens. Bees, butterflies, moths, hoverflies and many others visit flowers to feed on nectar and pollen; while doing so they transfer pollen and increase seed set and fruit development. Find out more at:
rhs.org.uk/plants